We all know you can never have too many clothes in your closet, and the same holds for your dolls! Whether you're looking for crochet doll clothes, like shawls and sweaters, that you can use to experiment with new techniques or are simply trying to provide a stylish wardrobe for your fashionable little friend. You're sure to find projects here that will both surprise and delight you. This set of free crochet doll clothes patterns will inspire you for years to come. You'll find an assortment of creations for every fashion preference for your dolls and other cute amigurumi.
Crochet doll clothes patterns
Every little girl loves playing with her dollies. Now, she can add some cuties to her doll's wardrobe with these crochet doll clothes patterns. You'll find patterns for dresses, shorts and tops, hats, shoes, and more. Most of the patterns come in several sizes to fit many dolls, so you'll only need one pattern to make several outfits.
If you're looking for more fun projects to make with your child, these free crochet doll clothes patterns are a great place to start. Whether you make them as Christmas gifts or give them as birthday presents, a young girl is sure to be overjoyed at receiving her outfits and accessories for her dolls. We have put together a collection of the most adorable Crochet Doll Clothes patterns for you to show off. These free crochet patterns are all written with beginners in mind and would also be great for advanced beginners/intermediate crocheters. Each pattern is broken down into simple terms that make them easy to understand and include graphics or images to guide you along too.
Crochet Doll Set
The superb crochet doll clothes pattern will surely amaze you with impressive color combinations. The designer has given a unique look to this set with the well-coordinated colors and the coat's design that leave an everlasting impression on everyone. Celebrate your little girl's birthday by making this crochet doll clothes pattern along with her and letting her play with the doll she has created on her own. It's a fun activity that won't fail to impress both of you.
favecrafts
Crochet Scarf For Doll
If you're looking for a fast, fashionable accessory for your doll, this crochet scarf is just the ticket. This lacy scarf will look great on your favorite American Girl Doll. Created from cotton thread and a steel crochet hook. This is an easy pattern for beginners. This pattern can be used to make a cute scarf for your doll. The pattern is easy and can be made in a short amount of time. This is a great pattern to use up yarn scraps! The more colors you use, the more fun this scarf becomes.
favecrafts
Crochet Doll Dress Tutorial
Make your crochet dress for the American Girl dolls. You will learn to crochet this simple pattern in this easy step-by-step tutorial. Once you've made this basic design, you can use it as the basis for creating all sorts of styles with different embellishments, such as lace trims, ruffle edges, and ribbon ties. You will need some basic skills in crochet. There are no set rules for sizing; this is just to give you an idea of how they are put together.
Barbie's Little Black Dress
A good black dress is a classic and beautiful staple piece, and this little pattern is a great way to make your very own fashion statement. This pattern could also be adjusted to create many other things like a bathing suit top or even a full dress. Your Barbie doll can have a brand new wardrobe with this Little Black Dress crochet pattern. As a bonus, since it was created with 100% cotton yarn, it is the perfect design to accessorize for any occasion.
favecrafts
American Girl Hat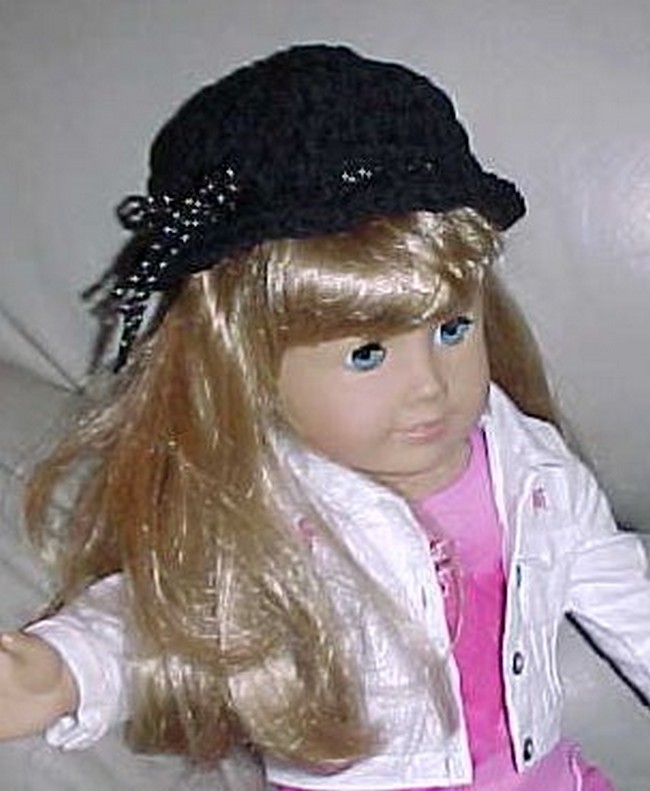 The perfect accessory for your girl's American Girl doll! This simple and classic design hat is adorable alone or as an outfit. Depending on the look your little girl wants to create for doll, it can be dressed up or down. The bow adds a sophisticated style that is delightful for any fashion-forward doll. Your imagination will run wild with all the fashionable ways to wear this versatile headpiece!
Get the Pattern
Doll Skirt Pattern
My Dolly Edgy Messy Bun Hat 2-in-1
A 2-in-1 pattern for a messy bun hat and a traditional hat, both in one, is waiting here for you. This pattern is the sister to my successful freebie Messy Bun Hat Pattern. It is perfect and suitable for beginners too. For dolly, it works up quickly with only 55-60 yards of worsted weight yarn. There are multiple sizes included and instructions on making a pom-pom or tassel if you prefer the "bun."This hat is appropriate for an 18" doll or doll with a head circumference of 11-12 inches.
craftcoalition
Crochet Doll Dress Tutorial
Have you ever thought about crocheting clothes for your daughter's doll? It can be fun, easy, and adorable. If you already have a crochet hook, yarn, and scissors in your house, you're all set! This Do It Yourself (DIY) project takes under 15 minutes to master, making it super simple for beginners - or anyone with no experience on the hook. This video tutorial will show you how I adjust my basic patterns to fit almost any doll. The dress can be made using any thread, but size ten generally fits most dolls ranging from 18-22 inches tall.
My Dolly Ruffle Ruana
Crochet Doll's Poncho
Mickey Mouse Ears
Your little lady and her favorite doll will be happily ready for a day of fun when you crochet them with a pair of mouse ears each. This set comes with crochet hooks, yarn, and complete instructions on how to recreate the iconic Mickey Mouse look -- complemented by a ribbon, fluffy yarn, and felt circles make this look spot on! This pattern is perfect for any little lady bringing her doll on her first trip to Disney or where else that mouse ears are appropriate.
favecrafts
My Dolly Edgy Messenger Bag
Before your dolly jets off to her next adventure, work up a matching messenger bag to make sure she has all of her belongings! This sweet little bag is great for all your doll's on-the-go essentials. It includes storage pockets to keep her pens and pencils and magnetic flap closure for easy opening. Best of all, you can customize the fabric print fabric with anything from dinosaurs or robots to unicorns or pizza slices to create a dolly bag that truly represents her unique style!
craftcoalition