Let your child's imagination run wild with these DIY fairy wings patterns. These wings are a great kids' craft for birthday parties, sleepovers, or classroom parties. Aren't kids always wanting to be a fairy or pixie when playing dress-up? With these ideas, children can transform into magical beings, and believe it or not, this fairy craft can be used by adults who need a quick costume for an upcoming masquerade ball! Use your best colors and add crystals for an even more dramatic effect!
How To DIY Fairy Wings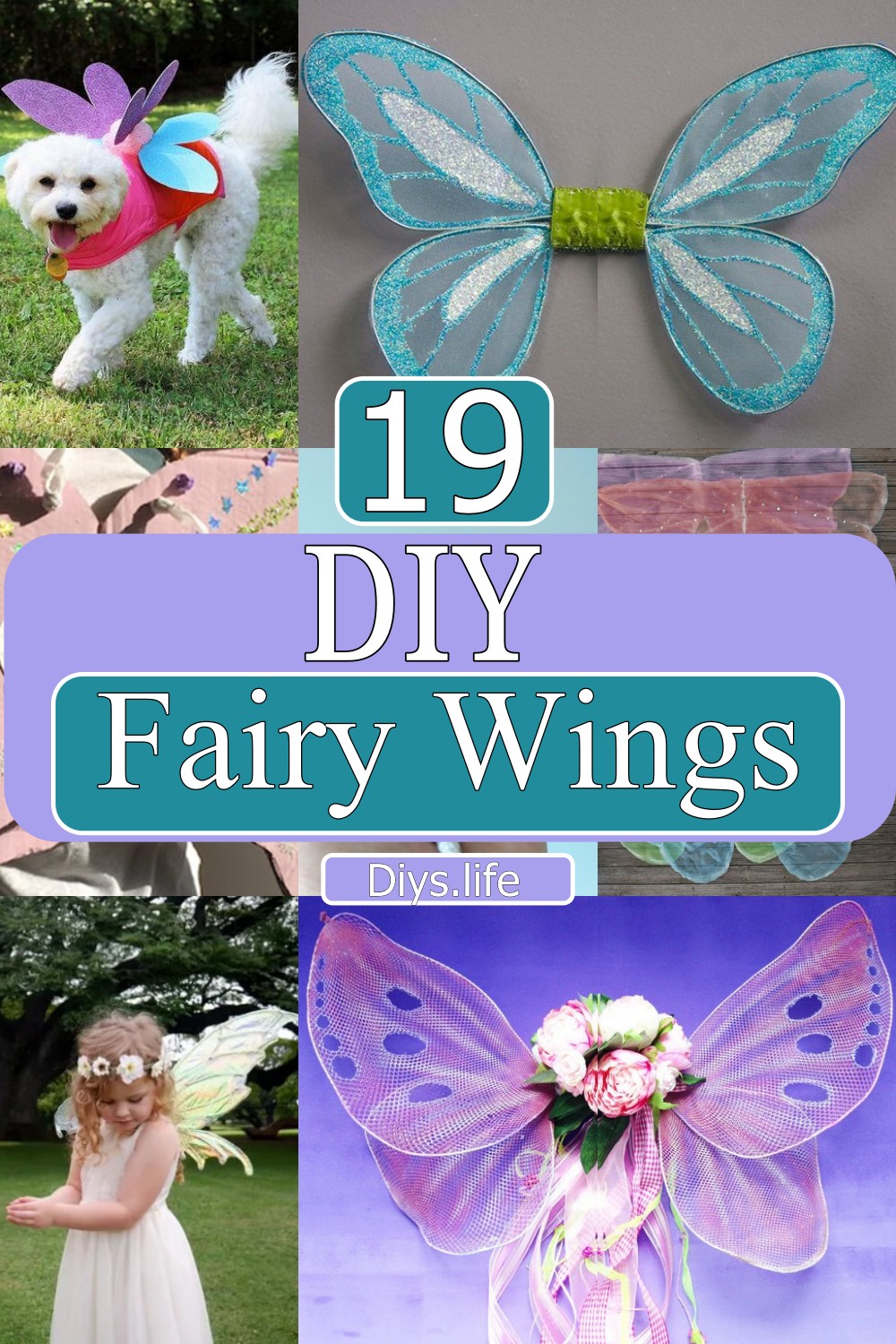 To encourage your child's imagination and creativity, she needs to see that you support her in exploring new avenues. A simple project like making fairy wings will be just the right thing to do so. Bring your child's fairytale dreams to life with these fantastic How To DIY Fairy Wings projects. Your little one will adore wearing her handmade fairy wings and won't want to take them off! Suitable for all ages, these handcrafted fairy wings will be a great activity for weekends and holidays when the weather is just right for making and having fun outdoors.
DIY Fairy Wings Tutorials
Make her dreams of looking like a fairy come true with these easy-to-make DIY Fairy Wings. Craft these sturdy and beautiful wings and let your little one dress up as a fairy to create the most magical moment of her life. Make these impressive DIY Fairy Wings for her so she can fly around the house and garden in style, just like Tinkerbell!
How To Make DIY Fairy Wings
Fairy wings are huge in cosplay and make a wonderful addition to any costume. They're also a hit as part of prom dresses or wedding attire. In this post, the author says that you can make fairy wings from household items. The tutorials below will help you learn how to create realistic-looking fairy wings out of paper, fabric, or cardboard. With these tutorials, you can make your alluring fairy wings at home. They are easy, cheap to make, and fun too!
Easy DIY Fairy Wings For Adults
Let your imagination soar in these easy-to-make, large, and beautiful wings. These are made of 3-D foam and would look amazing when hanging in a window or on a wall. These DIY Fairy Wings are simple yet elegant. They can be made in any color with a variety of materials. Use feathers and ribbon to create your pair of wings, but you could use paper or fabric. Whatever your style, these fairy wings are sure to make any outfit complete!
DIY Fairy Wings With Cellophane
While I've seen some DIY fairy wings on Pinterest and Facebook, I knew that I could probably make something similar that was far more affordable. This is the most beautiful and unique fairy wings ever, and It is quite easy to make your fairy wings. Just use a few different elements and get the look you want. It is a very simple project, and you can make it in any color scheme that fits your party plans.!
DIY Fairy Wings Kids
Transform any flower fairy into a real-life butterfly with these beautiful DIY fairy wings. This easy upcycle project using contact paper and flower petals is perfect for summer garden playmates. Fairy wings are gorgeous, but they don't need to be complicated. These versatile wings can be worn and attached in many ways so kids can wear them repeatedly. It will be a great summer craft project that's easy enough for the little ones and a great throwback to the flower children of the 60s; this project will make you smile too!
Fun Fairy Wings For Kids
If you love winged creatures and are looking to create beautiful wings that are sturdy, lightweight, and easy to wear, this is the one for you. Beginners will love it, but even experienced polymer clay artists find this tutorial great for refreshing their skills. Make a set of beautiful, sturdy wings. It's easy and fun to make fairy wings that you can use to dress up and have fun with. These beautiful wings will hold up well in the air and show off your artistic talents.
DIY Fairy Wings Cardboard
Our DIY Fairy Wings Cardboard is a fun and simple craft activity to make fairy wings for your little ones. If your kids need fairy wings for fancy dress, this is a great project to help them make their own. It's easy to create and looks like it's been made by a professional! Don't worry if you don't have any cardboard either; we'll show you how to make cardboard wings from recycled materials. The best thing about this DIY craft is that you can use recycled cardboard and craft materials to make fairy wings, making it inexpensive. This weekend activity makes a great rainy-day activity too.
DIY Fairy Wings With Fabric
This tutorial shows how to make fairy wings with fabric. This is an easy project, and the wings are not only beautiful, but they are also sturdy enough to wear in real-life situations. This is the most cost-effective way to make fairy or angel wings, and if you have a little time on your hands, you can save yourself a lot of money by making these rather than spending $100+ for some store-bought wings. They are much less heavy than store-bought wings and will last many years if cared for properly.
Cheap & Easy No Sew Fairy Wings Tutorial
Fairy Wings are a must-have item for any Fairy Party, especially if you're planning on making a costume. If your kids love dressing up, this tutorial is for you! This pretty and elaborate-looking outfit can be made instantly, using only basic supplies you probably already have at home. The wings are like art - they are hand-drawn, with no paint! This can be made in the morning or afternoon while they're young enough to enjoy it. And these pretty Fairy Wings can also be used for creative crafts, birthday presents, or as an imaginative fun playtime prop or dress-up costume idea.
DIY Fairy Wings Wire
We will make Fairy wings with a wire, which are very innovative wearings. Fairy wings have a fascinating look, and many people love them. Making a fairytale dress is quite difficult, but making wings for it should be easy! So you first want to take your wire and put the end through the hole, then put it through the right side piece. Get another wire, put it through this end, and then thread it through.
How To Make DIY Fairy Wings Cellophane
DIY Fairy Wings Cellophane which is awesome for adults and kids. You can make them yourself, which will be a great gift for your loved ones, friends, or even family. The material and size are flexible so that you can change it to your liking. You need these DIY Fairy Wings Cellophane at least once in your lifetime! These are perfect for Halloween parties or just playing dress~up. Here you'll find instructions on how to make a DIY Fairy wings cellophane.
DIY Fairy Wings Easy
The DIY Fairy Wings is the best idea for a little girl's fairy costume. Will you make these wings to add them to her dress-up collection? With this DIY fairy wings craft, your little princess can become a fairy queen. All you need is some paper, an elastic band, and scissors, and you're set to start making these adorable mini wings! The final result is light and airy, without being too heavy on her shoulders.
How To Make Fairy Wings
Learn how to make your little girl's dreams come true with these beautiful fairy wings. Perfect for a 7-year-old princess, these wing sets are made of organza and give that delicate shape using wires. With a tiny silver brooch on the left wing and a pin to attach it to any clothes, you can add that final touch to any dress or costume. And they'll light up her face! Once you have the necessary materials and tools, putting together, these tiny wings can be done in about an hour. Before starting this project, keep reading to learn more about making fairy wings and what supplies are needed.
Sparkly Butterfly Fairy Wings
This DIY is a fun craft project for children and adults alike. The fairy wings are made of pantyhose stretched over the wire, with duct tape covering the wings' center vein. You can paint them any color and add your favorite embellishments for a unique, custom design. These wings would look awesome on a fairy or butterfly-themed quinceañera or bachelorette party!
DIY Cellophane Fairy Wings
Create your fairy wings! This DIY cellophane wing kit comes with everything you need to make an adult-sized pair of giant iridescent pink cellophane wings, including the sparkly vinyl, the patterns, and instructions for creating them. These wings are so much fun that you might want to make your costume next! They look great paired with a steampunk outfit and can be worn for special occasions or everyday wear.
Fairy Wings With Tulle
Make a fairy costume in little time, with no sewing and no hassle. Use tulle and ribbon to create a beautiful set of butterfly wings that flap and flutter when you move. This is a great way to make beautiful fairy wings for your little one. Perfect for a birthday party, dress up and play make-believe. This craft can be done with lots of frills and no sewing or cutting. All you need is tulle, ribbon, elastic, and some imagination. It will only take you 30 minutes or less to have beautiful fairy wings.
DIY Fairy Costume Forest Fairy Style
A fairy costume is a great idea for any little girl. You can easily make this costume with the help of white tulle, green ribbons, and wire hangers. This is a great craft to make with your child or to give them full creative control. You can adjust the hanger size so that it fits any sized child. Add glitter, jewels, and other beautiful accents before you sew on the wings. This costume will make your little one want to dance around all day!
DIY Fairy Wings With Hangers
Creating a pair of fairy wings is fun to bring some magic into your next event or costume. Creating your wings is simple with the easy-to-follow instructions and supplies you already have in your home. You can make the wings any size or color, and it's only a matter of cutting, gluing, and taping! They're easy to make and work up quickly, so you can give them your personal touch. Make the wings with metal hangers, fabric, paint, and decoupage medium for a simple yet beautiful look.
Tinkerbell Fairy Wings
Making this Tinkerbell Fairy Wings DIY was so easy and simple. The wings are attached to a headband with glue dots, and they stay on her head while she flies around the house! Making your costumes saves money, but more importantly, it teaches kids that they can be whatever they want to be as long as they put in the hard work. The materials were easy to find and took me a few minutes to complete.
Make Fairy Wings For Dogs
This is one of the simplest DIY costume ideas you'll find. And it doesn't require any sewing! All you need are your pet's measurements, a pair of wings, and a velcro closure at the neck. Follow our simple step-by-step instructions to create a comfy pet jacket that will keep your dog or cat cozy on Halloween night! It's made of super soft fleece, with cute little details like ribbons and bows. Easily change the size by adjusting elastic bands. To wear the wings, slip on their heads and adjust the straps for a perfect fit.
DIY Fairy Wings Cardboard
Are you a big fan of fairies? Do you want to make yourself look like an evil one? Then these fairy wings from cardboard should be what you need. This is a homemade product that provides comfort and support to the wearer. They are very easy to use – place them against your back and see how cool you look as a gothic or vampire fairy! Let your imagination run wild with this cardboard fairy wing diy project, and make wings that suit your style!