Do you have a hard time keeping your patio and deck cool on hot days? Or, struggling to find a reliable option to get rid of excess heat from your place, you must follow this list of DIY misting system ideas. Cooling down on a hot day with a misting system is simply relaxing. And using water mister, you can keep your outdoor space cool enough for comfort and entertainment. Here we present you some DIY misting system ideas that can be used to cool off patios, porches, and rooftops. If installed in the right location, they can also help keep bugs from coming inside during summer.
DIY Misting System Ideas
If you want to add cooling to your outdoor space, misting systems are the way to go. Misting systems are an excellent way to cool your outdoor patio space without expensive, noisy, or energy-intensive cooling methods. They work by spraying water into the air, which evaporates, releasing heat and lowering the temperature. If you have a small outdoor space that you want to enjoy in the summer months, a misting system may be just what you need. We have gathered a superb series to make misting systems for your home usage; these given misting systems can be customized to fit your needs, they all are easy to build, and they're cheap too!
These misters add moisture and ambiance to your party or any other gathering. They are a great way to create a misty atmosphere without the cost of running a full-sized misting system. Follow these amazing plans and enjoy wet, colder air blowing through your balcony and other places this hot season.
DIY Misting System For Greenhouse
We'll show you how to build a DIY misting system for your greenhouse. It comes with everything needed to install and maintain a natural humidity level that prevents leaves from drying out, flowers from wilting, and plants from failing. Its creation is too easy, and you can use it to water your seedlings and plants properly. Connect a standard drip irrigation system to your faucet and add a sprinkler head or misting nozzle to create a microclimate around your plants.
DIY Water Mist System For Summer
This DIY water mist system makes cooling down on a hot day easy. As the weather heats up and you want to spend time with family, friends, or at the park, this DIY water misting system will keep you cool and refreshed. The system is portable so you can use it in different locations. The lowest mist volume will be produced with a ⅞" plastic irrigation hose or a ⅝" aluminum salvage hose (both can be found at Home Depot). A Gardena inline water filter can also clear debris before entering the misting system to keep your nozzle clean.
How To Make A DIY Misting System For Greenhouse
A greenhouse misting system requires a large amount of water. The water will moisten the air in your greenhouse and, in turn, promote the humidity needed for plants to thrive. This is especially important if you live in an arid or semi-arid climate with little yearly rainfall. This home-built greenhouse misting system can help you create a better environment for your plants and reduce their temperature load by as much as 50%.
Build Mist Machine In 15 Minutes
If you've ever visited a theme park or stayed in an air-conditioned room, you may have felt mist from overhead sprayers cool the air around your face. It's a refreshing way of cooling down on hot summer days. Following this simple tutorial, you can make your misting system for personal or commercial use. In the given video tutorial, the creator will guide you on how to build a simple misting system that works effectively and fits your budget.
DIY Misting System For Reptiles
Are you confident you can install a misting system for your reptile terrarium? Has it been a long-standing desire that you've wanted to make a reality but were discouraged by the thought of having to pay someone else to do it for you? Then this is the product for you! This kit includes everything you need to build a misting system at home, step-by-step instructions, and everything needed to install and maintain your misting system. This system will provide humidity while keeping your reptile's enclosure clean, healthy, and safe.
Automatic Misting System Plan
Gardeners can automate their garden's misting system with an entirely manual system, but an automatic timer helps ensure the plant doesn't miss a single drop of water. You'll have to follow this idea; use this automatic misting system to help plants grow faster and healthier. The kit connects your garden hose to a temperature-activated mister that runs on a standard timer, ensuring your plants are watered without ever having to set out the sprinkler again.
Easy DIY Misting System
If you want to cool off your patio on a summer night or keep the mosquitoes away from a garden pond or fountain, then misting fans are an inexpensive and effective way to accomplish the task. Whether you want to make a misting fan for your patio or make money by selling cool misting fans to others. This Do It Yourself project will show you how to build your misting system with parts commonly available at your local irrigation supply store.
Install A Misting System For Chicken
The DIY Misting System for Chicken is a great way of keeping your chickens cool. Take a walk on the wild side with your chicken and get this DIY Misting System for chickens. This great working misting system is made with good materials and expert skills, designed to promote the
comfortable living of your chicken
. The cooling effect will ease the burden of hot times in summer, keeping your chicken hydrated while also providing a cool environment for its comfort. Made of simple and affordable materials, this DIY project will make it easy for you to keep your chickens cool. You can build this system easily and have it ready in no time.
DIY Misting System For Water Fog
This DIY Misting System is economical to provide an outdoor water system. While a commercial misting system requires a water pump, pressure regulator, and filter to operate, you can make your misting system for the yard. The device uses the pressure from your home's water supply to produce a fine spray of water vapor. This makes it economical to provide an outdoor water system that is useful for areas like pool decks, patios, and sidewalks where you want to keep cool.
Personal DIY Misting System With Pump
You don't have to sit still and suffer when the heat's getting to you. Build a personal misting system to free you from the oppressive summer heat. This project uses a drip irrigation system adapted for misting, but any water source can be used so long as it's set up properly. Repurposing parts can save money while giving your yard new life or adding an attractive feature to your garden or patio. The build is simple, involving off-the-shelf parts, and no special tools are required. It provides a simple method for reusing water.
Best DIY Misting System
Install a misting system in your backyard with this easy diy tutorial. This outdoor patio misting system is very easy to install and is cost-effective, saving you money on professional installation. Firstly, You will need to gather all the supplies and tools needed to complete this project. These include a water pump, 2 misting nozzles if you want to mount them on the wall or even place them on benches and tables, tubing as long as 5 feet, and some more parts for an automatic timer that controls the misting schedule. Hey now! Your patio misting system is almost complete!
How To Build An Automatic Misting System
The simple DIY Automated Chicken Misting System allows you to control the temperature of your chicken coop, helping keep them cool and safe during hot summer days. This project is easy and can be completed in a few hours with minimal tools and supplies. With this easy-to-make and affordable system, you can keep your chickens safe from heat stroke. Adding more misting stations as needed will also aid in cooling down your entire coop.
Portable DIY Mister System
This DIY Mister System is a portable air mister that provides cooling relief to help you stay comfortably dry and cool no matter where your adventure takes you. The pump design is extremely convenient for traveling, hiking, camping, and more. Fill the tank with water, pump it up to 20-30 times, then spray yourself or your friends with a refreshing mist of cool water. It keeps you cool for hours and relieves sunburns and heat exhaustion during outside activities.
DIY Misting System For Patio
The DIY Mister System is an affordable, refreshing way to keep cool outdoors. A personal misting system provides a fine spray of water that cools you down but doesn't soak your clothing. This self-contained system includes an irrigation timer, mist head, and PVC pipe for attaching the mist head to any outdoor spigot. All parts are sold separately so that you can create the perfect combination based on your needs. This DIY mister system requires only a few household objects, can be made in less than an hour and makes an excellent gift for the gardener or lawn enthusiast in your life.
Customized DIY Misting System
Misting is one solution that can cool off hot, high-temperature days. You can achieve this just by building a custom misting system, but before you start building your misting system, it is important to consider some things first. This Custom DIY Misting System guide will show you how to build a simple mister steam system and make it work. You can easily use it to cool off on the hot summer days or add misting effects to your Halloween haunted house.
DIY Misting System PVC
The DIY PVC Mister or sprinkler frame is a fun project that will provide hours of summer fun; get the kids involved, and they can help you assemble the mister in a few easy steps. This is a great project to do with children and friends in an hour, but it will provide them with many hours of summer amusement this year. It will be a great creational DIY project with your family, and I hope you'll love it.
How To Build A Portable Misting System
This mister system is an excellent alternative to the traditional water sprayer. With its portable PVC tubing, you can use it as a patio mister or on the move. Built from an unused mister and an old microphone stand, it has air fittings for optimum pressure and nozzles to control the amount of water being sprayed. It's a little more complex than your standard sprayer, but it will last much longer and allow you to conserve water when needed.
DIY Misting System For Backyard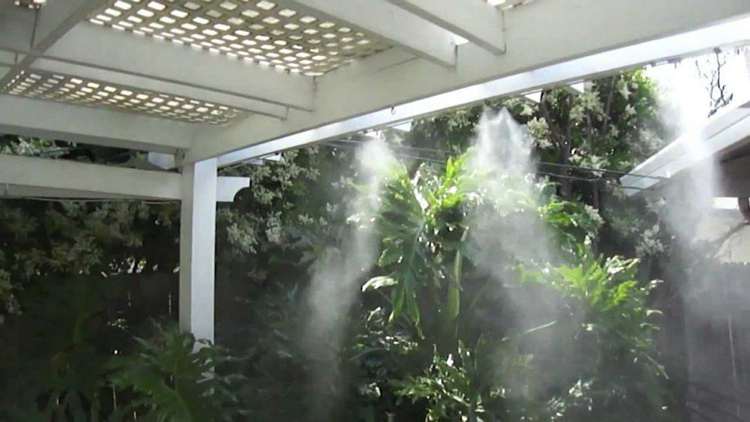 As the weather gets hotter, it can become unbearable to sit on the patio.  You can buy or make water misters avoid going inside and missing out on the fun.  This DIY project is cheaper than buying one and easier than it looks. Adding this water mister to your backyard can keep it cool on hot days.  It uses water, so it doesn't cost you much money to run, and it won't be an eyesore in the yard when you're not using it.
DIY A Mist Maker At Home
A mist maker is a device that can help you make your rainstorm indoors. This video explains how to make a simple home mist maker with a soda bottle, ice, and vegetable oil or mineral oil. It works by evaporating the oil with ice water trapped in a bottle. The result is cool, refreshed air you can sit in the middle of. No need for that huge, expensive machine!
DIY Misting Fan For  Home
https://youtu.be/v0ZuAiaNqSY?t=81
Misting your garden is now possible with a DIY Mist Fan. This project will have you creating your misting fan in no time. The best part is that you don't have to spend much money on it and it's super simple too! You can make your DIY misting fan with PVC pipe, a pump, and a few other parts. Build this project in less than five minutes. The video below shows how to make it out of common materials found around your home.
Automated Misting System
This video will show you how to set up an automated misting system using very few items. We'll start with the basics, such as what you need and the materials needed, before we move on to the steps themselves. By the end of this tutorial, you should have a working system that allows you to mist your reptiles as necessary without any hassles. This DIY Automated Misting System is guaranteed to save you time and money. It is perfect for even your reptiles!